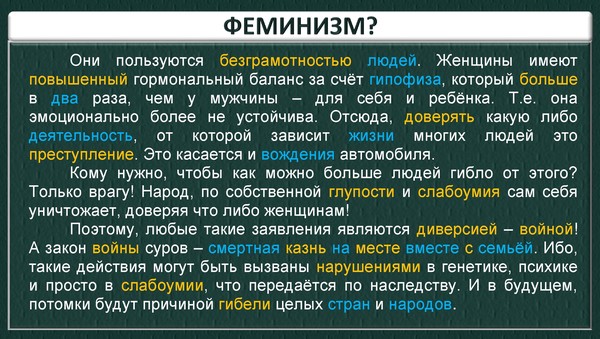 [
Spoiler (click to open)
]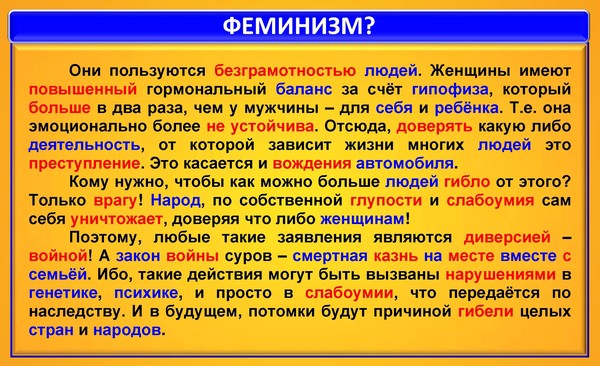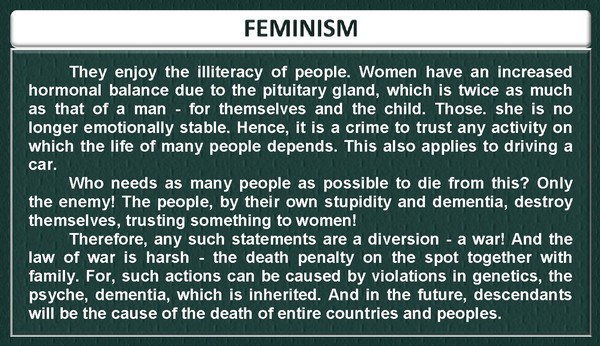 По поводу «феминизма».
Они пользуются безграмотностью людей. Женщины имеют повышенный гормональный баланс за счёт гипофиза, который больше в два раза, чем у мужчины – для себя и ребёнка. Т.е. она эмоционально более не устойчива. Отсюда, доверять какую либо деятельность, от которой зависит жизни многих людей это преступление. Это касается и вождения автомобиля.
Кому нужно, чтобы как можно больше людей гибло от этого? Только врагу! Народ, по собственной глупости и слабоумия сам себя уничтожает, доверяя что либо женщинам!
Поэтому, любые такие заявления являются диверсией – войной! А закон войны суров – смертная казнь на месте вместе с семьёй. Ибо, такие действия могут быть вызваны нарушениями в генетике, психике, и просто в слабоумии, что передаётся по наследству. И в будущем, потомки будут причиной гибели целых стран и народов. Примеров предостаточно.
FEMINISM
They enjoy the illiteracy of people. Women have an increased hormonal balance due to the pituitary gland, which is twice as much as that of a man - for themselves and the child. Those. she is no longer emotionally stable. Hence, it is a crime to trust any activity on which the life of many people depends. This also applies to driving a car.
Who needs as many people as possible to die from this? Only the enemy! The people, by their own stupidity and dementia, destroy themselves, trusting something to women!
Therefore, any such statements are a diversion - a war! And the law of war is harsh - the death penalty on the spot together with family. For, such actions can be caused by violations in genetics, the psyche, dementia, which is inherited. And in the future, descendants will be the cause of the death of entire countries and peoples.
ДОК: Феминизм+М+АНГ
https://yadi.sk/i/-3kyaXNEpzkYfg
[
Spoiler (click to open)
]
#феминизм
#гипофиз
#баламутчума
#баламутчумафеминизм
#баламутчумагипофиз
феминизм,,гипофиз,баламутчума