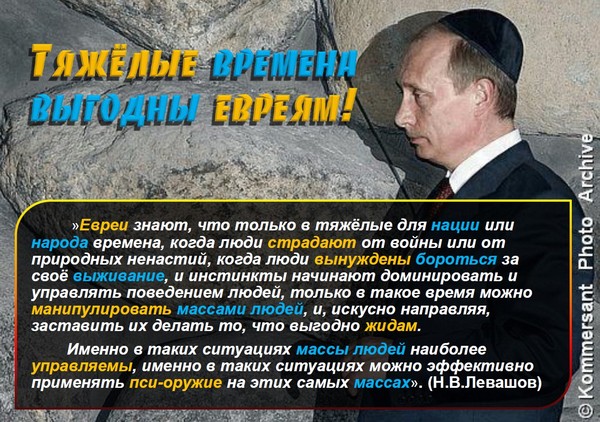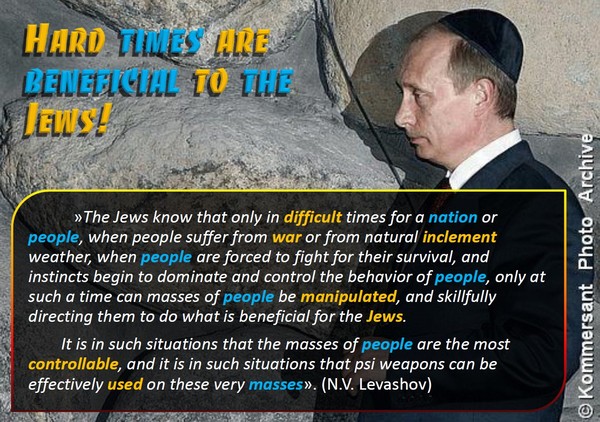 Тяжёлые времена выгодны евреям!
»
Евреи знают, что только в тяжёлые для нации или народа времена, когда люди страдают от войны или от природных ненастий, когда люди вынуждены бороться за своё выживание, и инстинкты начинают доминировать и управлять поведением людей, только в такое время можно манипулировать массами людей, и, искусно направляя, заставить их делать то, что выгодно жидам.
Именно в таких ситуациях массы людей наиболее управляемы, именно в таких ситуациях можно эффективно применять пси-оружие на этих самых массах
». (Н.В.Левашов)
Hard times are beneficial to the Jews!
»The Jews know that only in difficult times for a nation or people, when people suffer from war or from natural inclement weather, when people are forced to fight for their survival, and instincts begin to dominate and control the behavior of people, only at such a time can masses of people be manipulated, and skillfully directing them to do what is beneficial for the Jews.
It is in such situations that the masses of people are the most controllable, and it is in such situations that psi weapons can be effectively used on these very masses». (N.V. Levashov)
ДОК: Путин - Тяжёлые времена выгодны евреям+АНГ
https://yadi.sk/i/ZbhrRD_sbF2B7A
Читать книгу "Россия в кривых зеркалах", Н.В.Левашова полностью.
https://yadi.sk/i/GnG0JGeFLqUSrA
(Закачать по новой и ссылку сменить!)
[
Spoiler (click to open)
]
#левашов
#тяжёлые
#времена
#эпидемии
#зеркало
#баламутчума
#баламутчумалевашов
#баламутчуматяжёлые
#баламутчумавремена
#баламутчумаэпидемии
#баламутчумазеркало
Левашов,тяжёлые,времена,эпидемии,зеркало,баламутчума