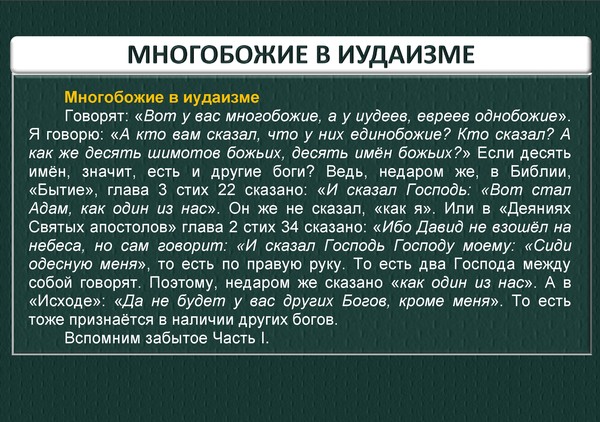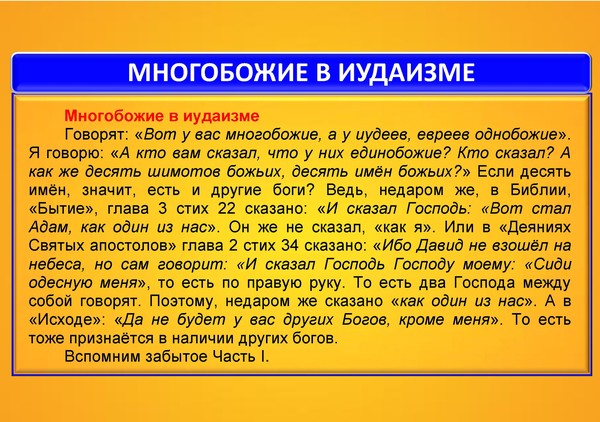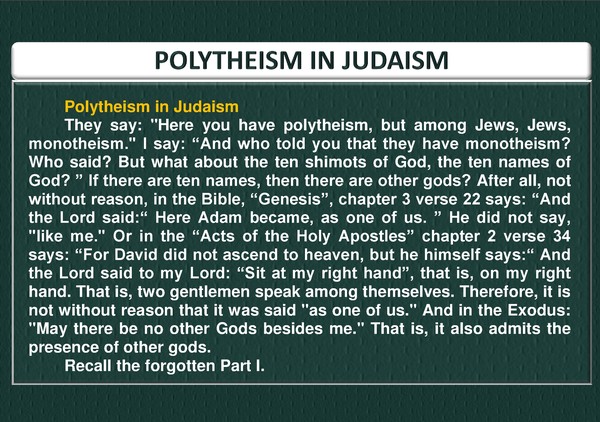 Многобожие в иудаизме
Говорят: «
Вот у вас многобожие, а у иудеев, евреев однобожие
». Я говорю: «
А кто вам сказал, что у них единобожие? Кто сказал? А как же десять шимотов божьих, десять имён божьих?
» Если десять имён, значит, есть и другие боги? Ведь, недаром же, в Библии, «Бытие», глава 3 стих 22 сказано: «
И сказал Господь: «Вот стал Адам, как один из нас
». Он же не сказал, «как я». Или в «Деяниях Святых апостолов» глава 2 стих 34 сказано: «Ибо Давид не взошёл на небеса, но сам говорит: «
И сказал Господь Господу моему: «Сиди одесную меня
», то есть по правую руку. То есть два Господа между собой говорят. Поэтому, недаром же сказано «как один из нас». А в «Исходе»: «
Да не будет у вас других Богов, кроме меня
». То есть тоже признаётся в наличии других богов.
Вспомним забытое Часть I.
https://yadi.sk/i/xN0G5ME_qA5Ckg
Polytheism in Judaism
They say: "Here you have polytheism, but among Jews, Jews, monotheism." I say: "And who told you that they have monotheism? Who said? But what about the ten shimots of God, the ten names of God? " If there are ten names, then there are other gods? After all, not without reason, in the Bible, "Genesis", chapter 3 verse 22 says: "And the Lord said:" Here Adam became, as one of us. " He did not say, "like me." Or in the "Acts of the Holy Apostles" chapter 2 verse 34 says: "For David did not ascend to heaven, but he himself says:" And the Lord said to my Lord: "Sit at my right hand", that is, on my right hand. That is, two gentlemen speak among themselves. Therefore, it is not without reason that it was said "as one of us." And in the Exodus: "May there be no other Gods besides me." That is, it also admits the presence of other gods.
Recall the forgotten Part I.

ДОК: Многобожие в иудаизме+М+ENG
Balamut-Chuma
balamutchumag001@mail.ru
[
Spoiler (click to open)
]
#вспомним
#забытое
#аду
#многобожие
#иудаизм
#баламутчума
#баламутчумавспомним
#баламутчумазабытое
#баламутчумааду
#баламутчумамногобожие
#иудаизм
вспомним,забытое,АДУ,многобожие,иудаизм,баламутчума