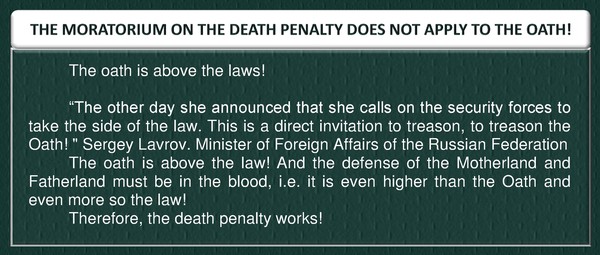 Мораторий на смертную казнь на Присягу не действует! Присяга выше законов!
«На днях она заявила, что призывает силовиков встать на сторону закона. Это прямое приглашение к измене, к измене Присяги!» Сергей Лавров. Министр иностранных дел Российской Федерации
Присяга выше закона! А защита Родины и Отечества должно быть в крови, т.е. это даже выше Присяги и тем более закона!
Поэтому, смертная казнь действует!
The moratorium on the death penalty does not apply to the Oath!
The oath is above the laws!
"The other day she announced that she calls on the security forces to take the side of the law. This is a direct invitation to treason, to treason the Oath! " Sergey Lavrov. Minister of Foreign Affairs of the Russian Federation
The oath is above the law! And the defense of the Motherland and Fatherland must be in the blood, i.e. it is even higher than the Oath and even more so the law!
Therefore, the death penalty works!
ДОК: Мораторий на смертную казнь на Присягу не действует!+М+АНГ
Balamut-Chuma
balamutchumag001@mail.ru
[
Spoiler (click to open)
]
#мораторий
#смертная
#казнь
#присяга
#баламутчума
#баламутчумамораторий
#баламутчумасмертная
#баламутчумаприсяга
#баламутчумаказнь
мораторий,смертная,казнь,Присяга,баламутчума