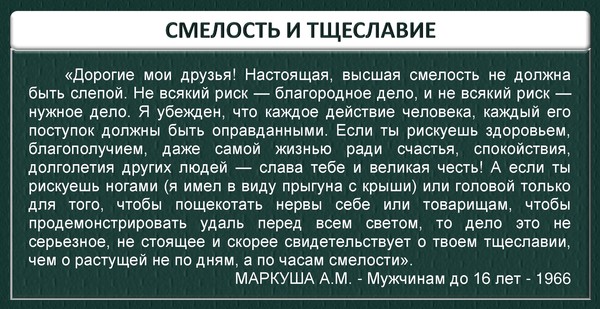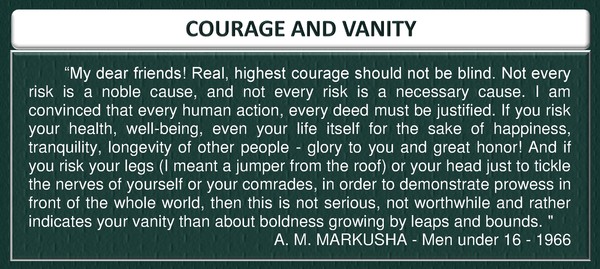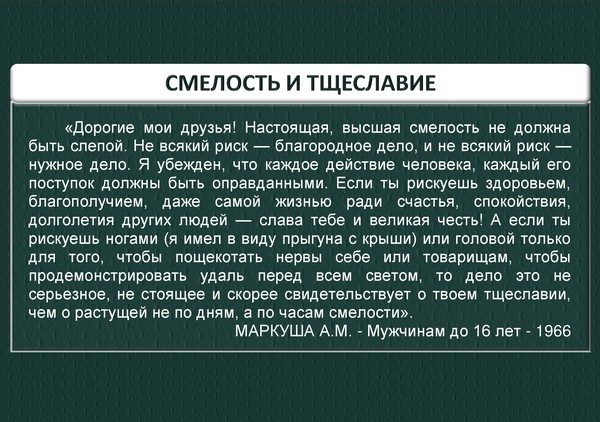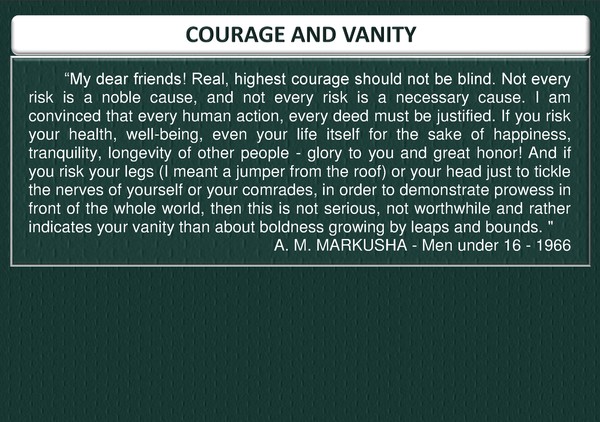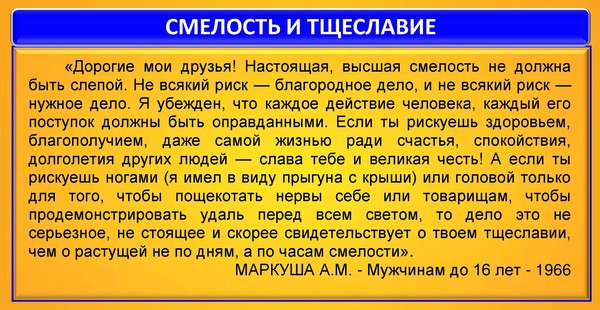 Смелость и тщеславие. Маркуша А.М.
«
Дорогие мои друзья! Настоящая, высшая смелость не должна быть слепой. Не всякий риск — благородное дело, и не всякий риск — нужное дело. Я убежден, что каждое действие человека, каждый его поступок должны быть оправданными. Если ты рискуешь здоровьем, благополучием, даже самой жизнью ради счастья, спокойствия, долголетия других людей — слава тебе и великая честь! А если ты рискуешь ногами (я имел в виду прыгуна с крыши) или головой только для того, чтобы пощекотать нервы себе или товарищам, чтобы продемонстрировать удаль перед всем светом, то дело это не серьезное, не стоящее и скорее свидетельствует о твоем тщеславии, чем о растущей не по дням, а по часам смелости
».
МАРКУША А.М. - Мужчинам до 16 лет - 1966
Courage and vanity
"
My dear friends! Real, highest courage should not be blind. Not every risk is a noble cause, and not every risk is a necessary cause. I am convinced that every human action, every deed must be justified. If you risk your health, well-being, even your life itself for the sake of happiness, tranquility, longevity of other people - glory to you and great honor! And if you risk your legs (I meant a jumper from the roof) or your head just to tickle the nerves of yourself or your comrades, in order to demonstrate prowess in front of the whole world, then this is not serious, not worthwhile and rather indicates your vanity than about boldness growing by leaps and bounds.
"
A. M. MARKUSHA - Men under 16 - 1966
ДОК: Смелость и тщеславие. Маркуша.+М+АНГ
https://yadi.sk/i/AOmP7kb-_0AQOQ
PDF: МАРКУША А.М. - Мужчинам до 16 лет - 1966
http://www.docme.ru/download/42965
https://yadi.sk/i/aGvcJ8t434IFyA
[
Spoiler (click to open)
]
#маркуша
#смелость
#тщеславие
#мудрые
#мысли
#баламутчума
#баламутчумамаркуша
#баламутчумасмелость
#баламутчуматщеславие
#баламутчумамудрые
#баламутчумамысли
Маркуша,смелость,тщеславие,мудрые,мысли,баламутчума