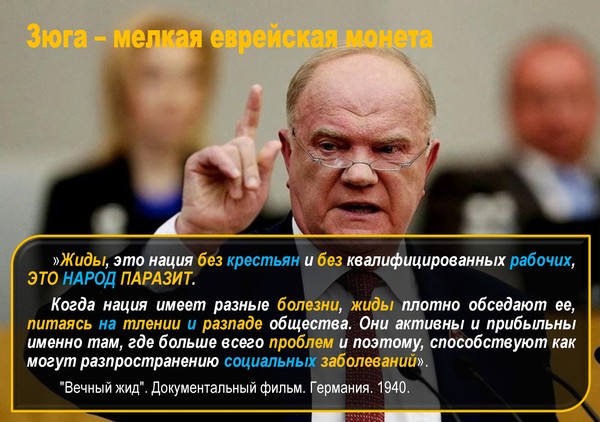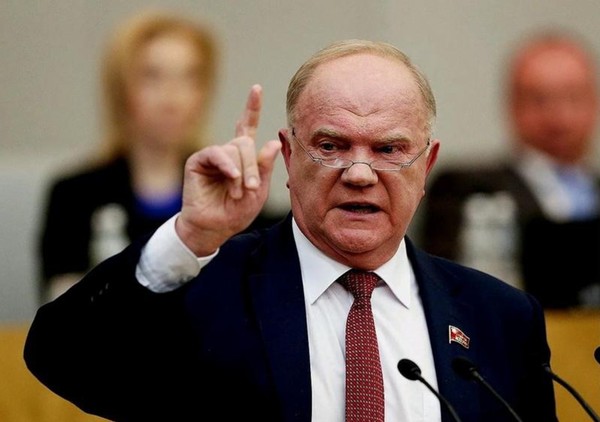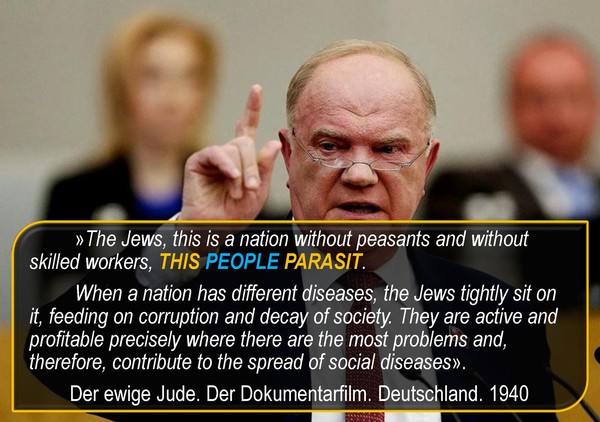 Жиды - это народ паразит, без трудящихся
(Зюга - мелкая еврейская монета)
»Жиды, это нация без крестьян и без квалифицированных рабочих,
ЭТО НАРОД ПАРАЗИТ
.
Когда нация имеет разные болезни, жиды плотно обседают ее, питаясь на тлении и разпаде общества. Они активны и прибыльны именно там, где больше всего проблем и поэтому, способствуют как могут разпространению социальных заболеваний».
"Вечный жид". Документальный фильм. Германия. 1940.
»The Jews, this is a nation without peasants and without skilled workers,
THIS PEOPLE PARASIT
.
When a nation has different diseases, the Jews tightly sit on it, feeding on corruption and decay of society. They are active and profitable precisely where there are the most problems and, therefore, contribute to the spread of social diseases».
Der ewige Jude. Der Dokumentarfilm. Deutschland. 1940
ДОК: Жиды - это народ паразит, без трудящихся (Зюганов)
Balamut-Chuma
bchumagugl@mail.ru
[
Spoiler (click to open)
]
#жиды
#народ
#паразит
#зюганов
#вечный
#жид
#баламутчума
#баламутчумажиды
#баламутчуманарод
#баламутчумапаразит
#баламутчумазюганов
#баламутчумавечный
#баламутчумажид
жиды,народ,паразит,Зюганов,вечный,жид,баламутчума