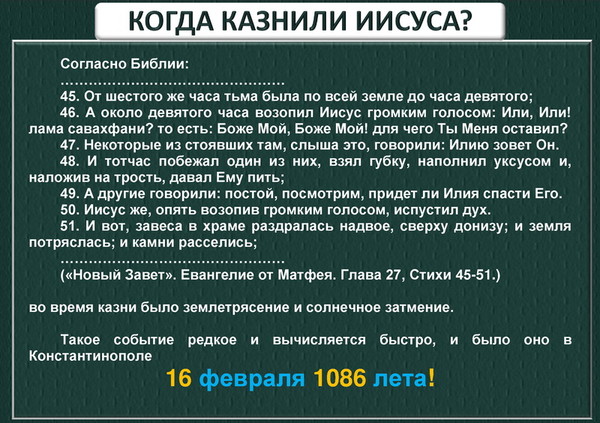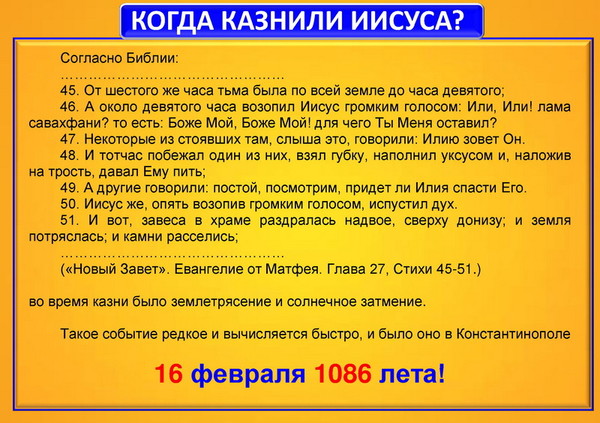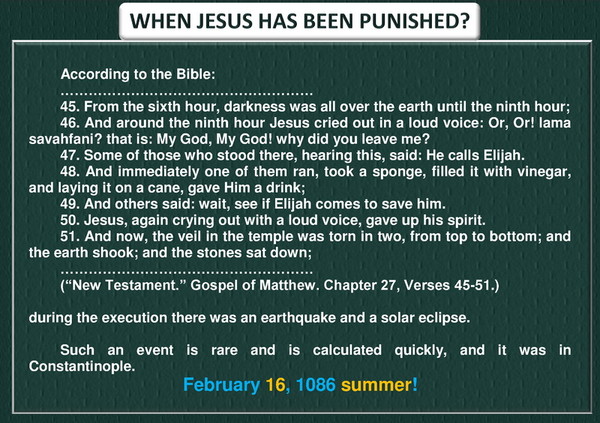 Когда казнили Иисуса Христа?
Согласно Библии:
…………………………………………
45. От шестого же часа тьма была по всей земле до часа девятого;
46. А около девятого часа возопил Иисус громким голосом: Или, Или! лама савахфани? то есть: Боже Мой, Боже Мой! для чего Ты Меня оставил?
47. Некоторые из стоявших там, слыша это, говорили: Илию зовет Он.
48. И тотчас побежал один из них, взял губку, наполнил уксусом и, наложив на трость, давал Ему пить;
49. А другие говорили: постой, посмотрим, придет ли Илия спасти Его.
50. Иисус же, опять возопив громким голосом, испустил дух.
51. И вот, завеса в храме раздралась надвое, сверху донизу; и земля потряслась; и камни расселись;
…………………………………………
(«Новый Завет». Евангелие от Матфея. Глава 27, Стихи 45-51.)
во время казни было землетрясение и солнечное затмение.
Такие события редкие и вычисляются быстро, и были они в Константинополе
16 февраля 1086 лета! 
WHEN JESUS ​​HAS BEEN PUNISHED?
According to the Bible:
………………………………………………
45. From the sixth hour, darkness was all over the earth until the ninth hour;
46. ​​And around the ninth hour Jesus cried out in a loud voice: Or, Or! lama savahfani? that is: My God, My God! why did you leave me?
47. Some of those who stood there, hearing this, said: He calls Elijah.
48. And immediately one of them ran, took a sponge, filled it with vinegar, and laying it on a cane, gave Him a drink;
49. And others said: wait, see if Elijah comes to save him.
50. Jesus, again crying out with a loud voice, gave up his spirit.
51. And now, the veil in the temple was torn in two, from top to bottom; and the earth shook; and the stones sat down;
………………………………………………
("New Testament." Gospel of Matthew. Chapter 27, Verses 45-51.)
during the execution there was an earthquake and a solar eclipse.
Such an event is rare and is calculated quickly, and it was in Constantinople.
February 16, 1086 summer!
ДОК: Когда казнили Иисуса Христа+М+EN
Balamut-Chuma
https://disk.yandex.ru/i/UuFeWFApp9UOcw
bchumagugl@mail.ru
https://cloud.mail.ru/public/KnmN/dLF1diu87
[
Spoiler (click to open)
]
#иисус
#христос
#казнь
#когда
#казнили
#землетрясение
#затмение
#солнечное
#баламутчума
#баламутчумаиисус
#баламутчумахристос
#баламутчумаказнь
#баламутчумакогда
#баламутчумаказнили
#баламутчумаземлетрясение
#баламутчумазатмение
#баламутчумасолнечное
Иисус, Христос, казнь, когда, казнили, землетрясение, затмение, солнечное, баламутчума,