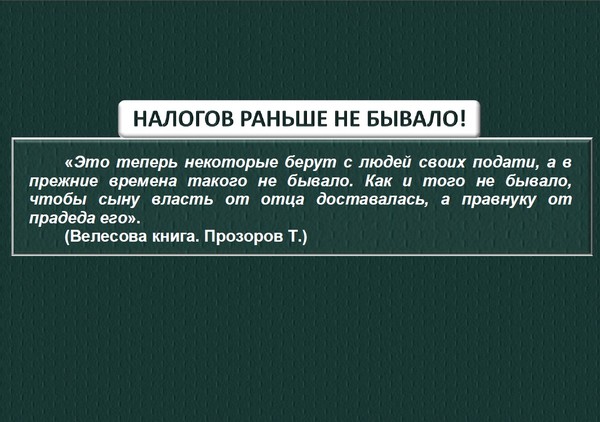 НАЛОГОВ РАНЬШЕ НЕ БЫВАЛО!
»
Это теперь некоторые берут с людей своих подати, а в прежние времена такого не бывало. Как и того не бывало, чтобы сыну власть от отца доставалась, а правнуку от прадеда его
».
(Велесова книга. Прозоров Т.)
TAXES NEVER HAPPENED BEFORE!
»
It is now some people take their taxes from people, and in the old days this did not happen. As well as that did not happen that to the son the power from the father got, and to the great-grandson from his great-grandfather
».
(The book of Veles. Prozorov T.)
ДОК: НАЛОГОВ РАНЬШЕ НЕ БЫВАЛО
Balamut-Chuma
bchumagugl@mail.ru
[
Spoiler (click to open)
]
#налоги
#велесова
#книга
#баламутчума
#баламутчуманалоги
#баламутчумавелесова
#баламутчумакнига
баламутчума