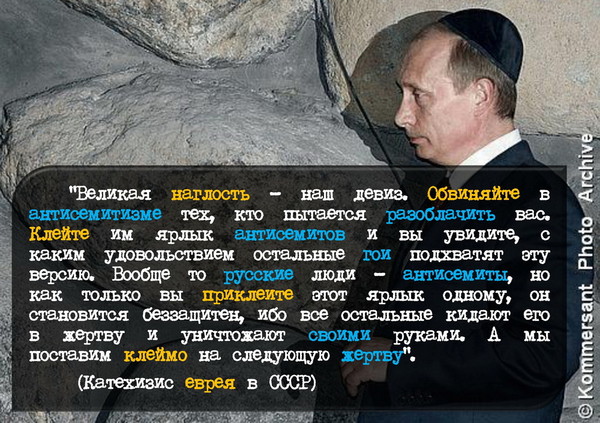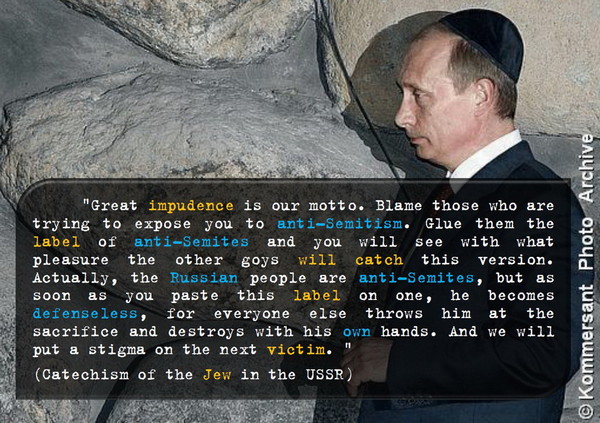 Великая наглость
»Великая наглость - наш девиз. Обвиняйте в антисемитизме тех, кто пытается разоблачить вас. Клейте им ярлык антисемитов и вы увидите, с каким удовольствием остальные гои подхватят эту версию. Вообще то русские люди - антисемиты, но как только вы приклеите этот ярлык одному, он становится беззащитен, ибо все остальные кидают его в жертву и уничтожают своими руками. А мы поставим клеймо на следующую жертву».
(Катехизис жида (иудея) в СССР)
Great arrogance
"Great arrogance is our motto. Blame anti-Semitism on those who try to expose you. Label them as anti-Semites and you will see with what pleasure the rest of the goyim will pick up this version. In general, Russian people are anti-Semites, but as soon as you stick this label to one, he becomes defenseless, because everyone else throws him as a victim and destroys him with their own hands. And we will brand the next victim. "
(Catechism of a Jew (Jew) in the USSR)
ДОК: Путин - Великая наглость - обвиняйте в антисемитизме
Balamut-Chuma
bchumagugl@mail.ru
ДОК: Катехизис иудея (жида) в СССР
Balamut-Chuma
bchumagugl@mail.ru
[
Spoiler (click to open)
]