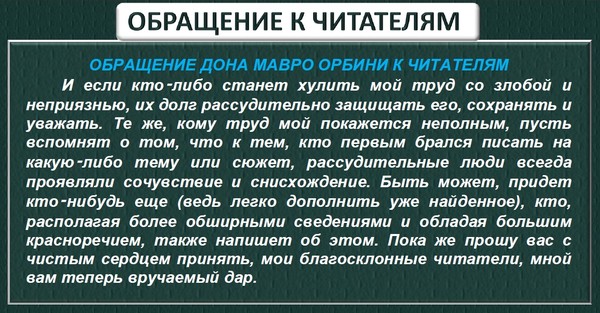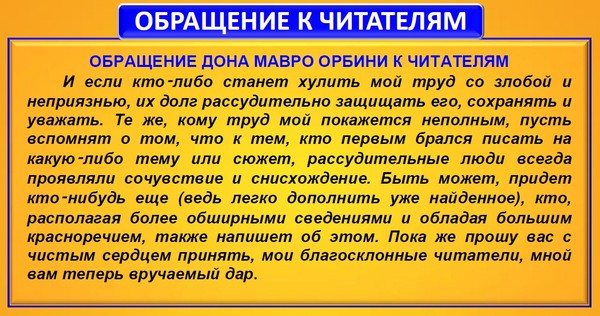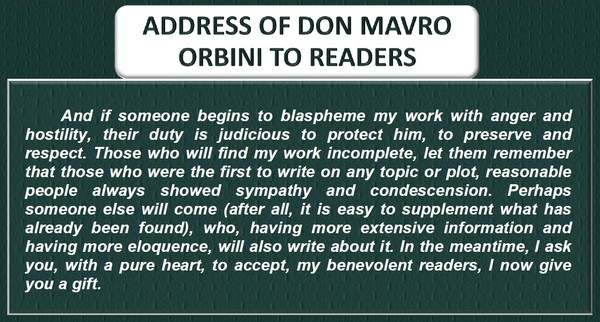 ОБРАЩЕНИЕ ДОНА МАВРО ОРБИНИ К ЧИТАТЕЛЯМ
И если кто‑либо станет хулить мой труд со злобой и неприязнью, их долг рассудительно защищать его, сохранять и уважать. Те же, кому труд мой покажется неполным, пусть вспомнят о том, что к тем, кто первым брался писать на какую‑либо тему или сюжет, рассудительные люди всегда проявляли сочувствие и снисхождение. Быть может, придет кто‑нибудь еще (ведь легко дополнить уже найденное), кто, располагая более обширными сведениями и обладая большим красноречием, также напишет об этом. Пока же прошу вас с чистым сердцем принять, мои благосклонные читатели, мной вам теперь вручаемый дар.
ADDRESS OF DON MAVRO ORBINI TO READERS
And if someone begins to blaspheme my work with anger and hostility, their duty is judicious to protect him, to preserve and respect. Those who will find my work incomplete, let them remember that those who were the first to write on any topic or plot, reasonable people always showed sympathy and condescension. Perhaps someone else will come (after all, it is easy to supplement what has already been found), who, having more extensive information and having more eloquence, will also write about it. In the meantime, I ask you, with a pure heart, to accept, my benevolent readers, I now give you a gift.
Славянское Царство, Мавро Орбини. 2010г.
http://www.tvoyhram.ru/stati/st96str1.html
PDF: Славянское Царство, Мавро Орбини. 2010 г.
https://yadi.sk/d/XBB2_jZGv93Un
DJVU: Славянское Царство, Мавро Орбини. 1722
https://yadi.sk/d/2NSbKNsN084q7Q
#мавро
#орбини
#славянское
#царство
#обращение
#труд
#читатель
#хулить
#баламутчума
#баламутчумамавро
#баламутчумаорбини
#баламутчумаславянское
#баламутчумацарство
#баламутчумаобращение
#баламутчуматруд
#баламутчумачитатель
#баламутчумахулить