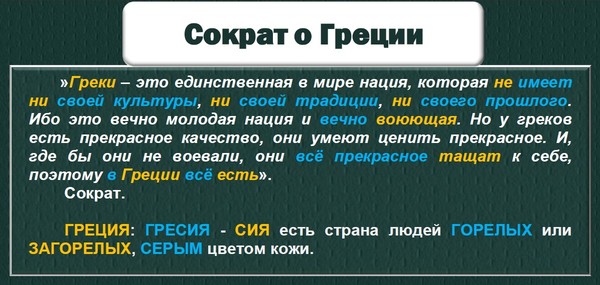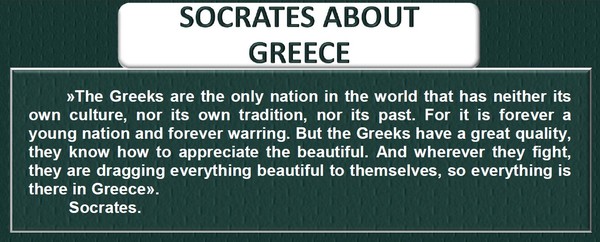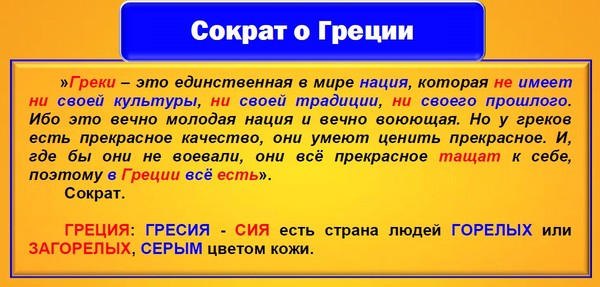 »
Греки – это единственная в мире нация, которая не имеет ни своей культуры, ни своей традиции, ни своей истории. Ибо это вечно молодая нация и вечно воюющая. Но у греков есть прекрасное качество, они умеют ценить прекрасное. И, где бы они не воевали, они всё прекрасное тащат к себе, поэтому в Греции всё есть
».
Сократ.
SOCRATES ABOUT GREECE
»
The Greeks are the only nation in the world that has neither its own culture, nor its own tradition, nor its past. For it is forever a young nation and forever warring. But the Greeks have a great quality, they know how to appreciate the beautiful. And wherever they fight, they are dragging everything beautiful to themselves, so everything is there in Greece
».
Socrates.
ГРЕЦИЯ
:
ГРЕСИЯ
-
СИЯ
есть страна людей
ГОРЕЛЫХ
или
ЗАГОРЕЛЫХ
,
СЕРЫМ
цветом кожи.
ДОК: Сократ о Греции+М+EN
https://yadi.sk/i/BMuU07Uum...
#греция
#сократ
#греки
#баламутчума
#баламутчумагреция
#баламутчумасократ
#баламутчумагреки