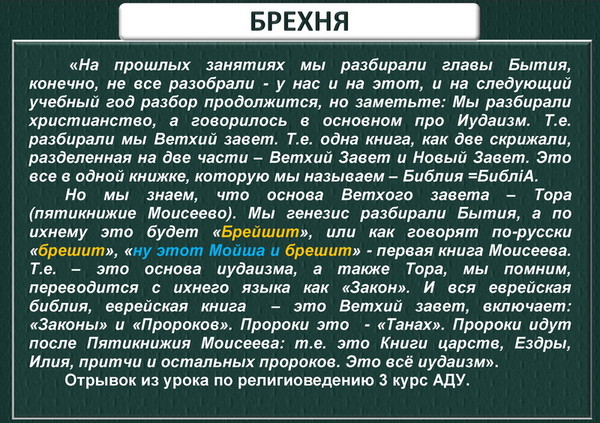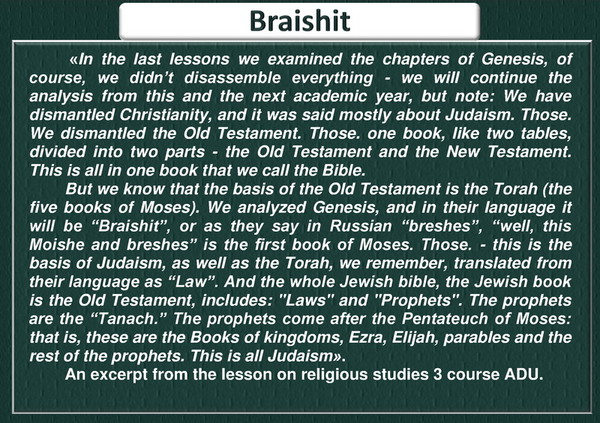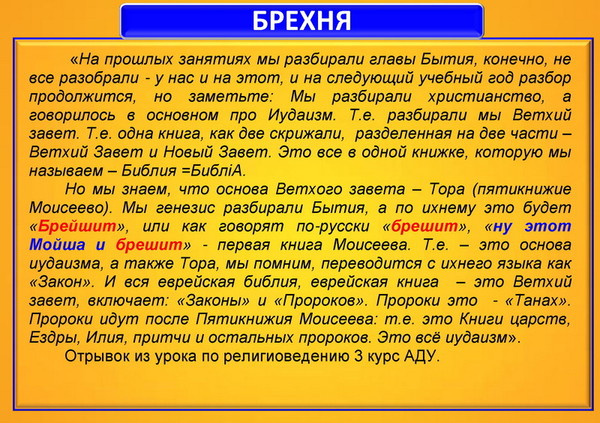 БРЕХНЯ
«
На прошлых занятиях мы разбирали главы Бытия, конечно, не все разобрали - у нас и на этот, и на следующий учебный год разбор продолжится, но заметьте: Мы разбирали христианство, а говорилось в основном про Иудаизм. Т.е. разбирали мы Ветхий завет. Т.е. одна книга, как две скрижали, разделенная на две части – Ветхий Завет и Новый Завет. Это все в одной книжке, которую мы называем – Библия =БиблiA.
Но мы знаем, что основа Ветхого завета – Тора (пятикнижие Моисеево). Мы генезис разбирали Бытия, а по ихнему это будет «Брейшит», или как говорят по-русски «брешит», «ну этот Мойша и брешит» - первая книга Моисеева. Т.е. – это основа иудаизма, а также Тора, мы помним, переводится с ихнего языка как «Закон». И вся еврейская библия, еврейская книга – это Ветхий завет, включает: «Законы» и «Пророков». Пророки это - «Танах». Пророки идут после Пятикнижия Моисеева: т.е. это Книги царств, Ездры, Илия, притчи и остальных пророков. Это всё иудаизм
».
Отрывок из урока по религиоведению 3 курс АДУ.
«
In the last lessons we examined the chapters of Genesis, of course, we didn't disassemble everything - we will continue the analysis from this and the next academic year, but note: We have dismantled Christianity, and it was said mostly about Judaism. Those. We dismantled the Old Testament. Those. one book, like two tables, divided into two parts - the Old Testament and the New Testament. This is all in one book that we call the Bible.
But we know that the basis of the Old Testament is the Torah (the five books of Moses). We analyzed Genesis, and in their language it will be "Braishit", or as they say in Russian "breshes", "well, this Moishe and breshes" is the first book of Moses. Those. - this is the basis of Judaism, as well as the Torah, we remember, translated from their language as "Law". And the whole Jewish bible, the Jewish book is the Old Testament, includes: "Laws" and "Prophets". The prophets are the "Tanach." The prophets come after the Pentateuch of Moses: that is, these are the Books of kingdoms, Ezra, Elijah, parables and the rest of the prophets. This is all Judaism
».
An excerpt from the lesson on religious studies 3 course ADU.
ДОК: Брехня+М+EN
https://yadi.sk/i/0w-G04vcHuw3ug
#брехня
#моисей
#библия
#ветхий
#завет
#тонах
#иудаизм
#баламутчума
#баламутчумабрехня
#баламутчумамоисей
#баламутчумабиблия
#баламутчумаветхий
#баламутчумазавет
#баламутчуматонах
#баламутчумаиудаизм