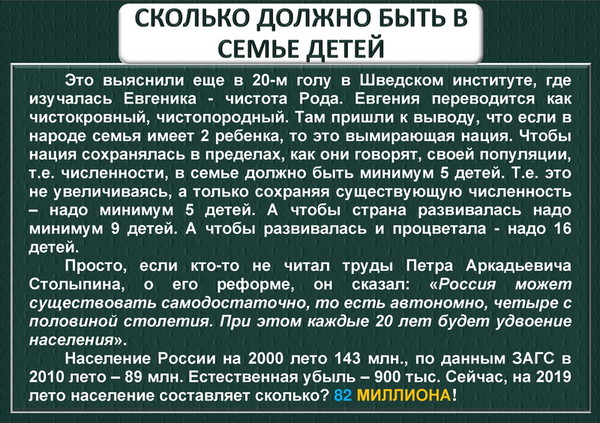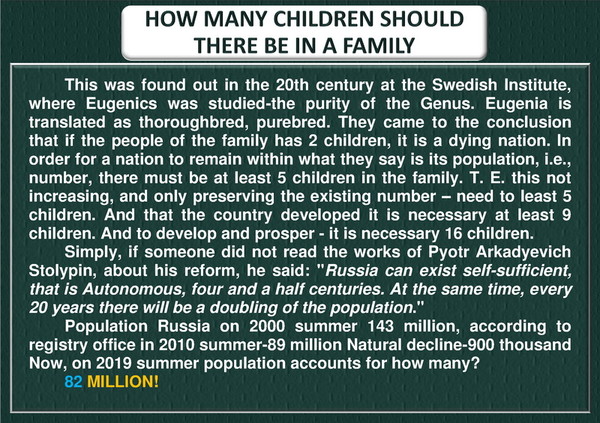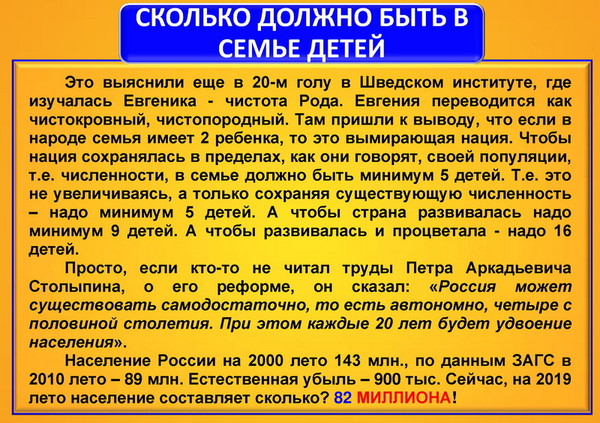 Сколько должно быть в семье детей. (Мудрые мысли)
Это выяснили еще в 20-м голу в Шведском институте, где изучалась Евгеника - чистота Рода. Евгения переводится как чистокровный, чистопородный. Там пришли к выводу, что если в народе семья имеет 2 ребенка, то это вымирающая нация. Чтобы нация сохранялась в пределах, как они говорят, своей популяции, т.е. численности, в семье должно быть минимум 5 детей. Т.е. это не увеличиваясь, а только сохраняя существующую численность – надо минимум 5 детей. А чтобы страна развивалась надо минимум 9 детей. А чтобы развивалась и процветала - надо 16 детей.
Просто, если кто-то не читал труды Петра Аркадьевича Столыпина, о его реформе, он сказал: «Россия может существовать самодостаточно, то есть автономно, четыре с половиной столетия. При этом каждые 20 лет будет удвоение населения».
Население России на 2000 лето 143 млн., по данным ЗАГС в 2010 лето – 89 млн. Естественная убыль – 900 тыс. Сейчас, на 2019 лето население составляет сколько?
82 МИЛЛИОНА!
HOW MANY CHILDREN SHOULD THERE BE IN A FAMILY
This was found out in the 20th century at the Swedish Institute, where Eugenics was studied-the purity of the Genus. Eugenia is translated as thoroughbred, purebred. They came to the conclusion that if the people of the family has 2 children, it is a dying nation. In order for a nation to remain within what they say is its population, i.e., number, there must be at least 5 children in the family. T. E. this not increasing, and only preserving the existing number – need to least 5 children. And that the country developed it is necessary at least 9 children. And to develop and prosper - it is necessary 16 children.
Simply, if someone did not read the works of Pyotr Arkadyevich Stolypin, about his reform, he said: "Russia can exist self-sufficient, that is Autonomous, four and a half centuries. At the same time, every 20 years there will be a doubling of the population."
Population Russia on 2000 summer 143 million, according to registry office in 2010 summer-89 million Natural decline-900 thousand Now, on 2019 summer population accounts for how many?
82 MILLION!
ДОК: Сколько должно быть детей в семье+М+АНГ
Balamut-Chuma
bchumagugl@mail.ru
[
Spoiler (click to open)
]