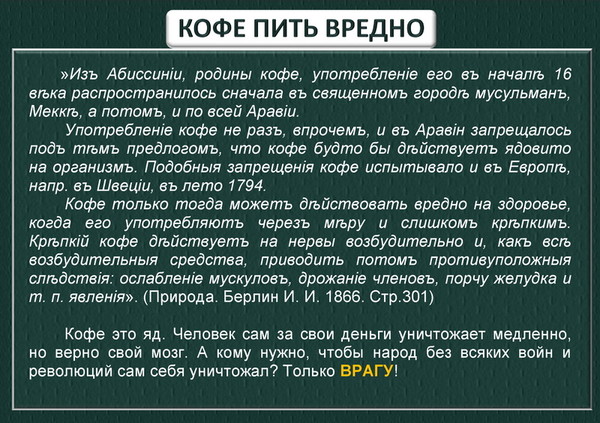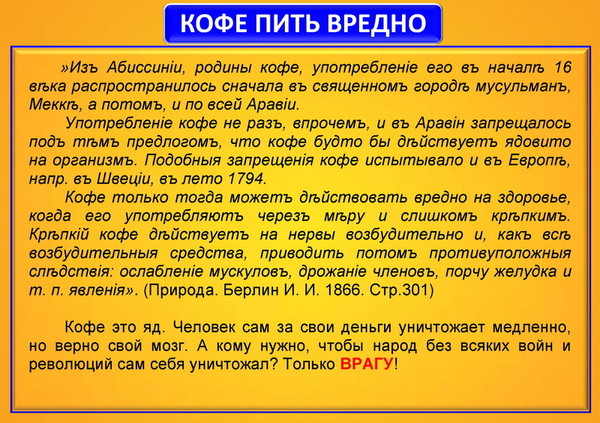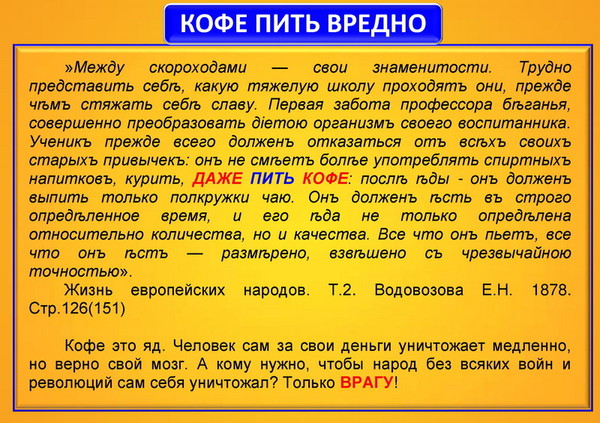 Кофе пить вредно. (Берлин. Мудрые мысли)
»
Употребленіе кофе не разъ, впрочемъ, и въ Аравін запрещалось подъ тѣмъ предлогомъ, что кофе будто бы дѣйствуетъ ядовито на организмъ. Подобныя запрещенія кофе испытывало и въ Европѣ, напр. въ Швеціи, въ лето 1794.
Кофе только тогда можетъ дѣйствовать вредно на здоровье, когда его употребляютъ черезъ мѣру и слишкомъ крѣпкимъ. Крѣпкій кофе дѣйствуетъ на нервы возбудительно и, какъ всѣ возбудительныя средства, приводить потомъ противуположныя слѣдствія: ослабленіе мускуловъ, дрожанiе членовъ, порчу желудка и т.п. явленія
».
Природа. Берлин И. И. 1866. Стр. 301.
COFFEE DRINK HARMFUL
"
From Abyssinians, the homeland of coffee, its use in the beginnings of the 16th century spread first to the holy city of Muslims, Mecca, and then, and throughout the Arabia.
The use of coffee is not a divorce, however, and in Aravіn it was forbidden to rise by the pretext that coffee seemed to be toxic on the body. Similar prohibitions of coffee were tested in Europe, for example. in Sweden, in the summer of 1794.
Coffee can only be detrimental to health when it is consumed through meat and too strong. Spreading coffee on the nerves is excitatory and, like all arousal means, then cite the opposite negative outcomes: weakening of the muscles, trembling of the limb, damage to the stomach, and so forth
".
(Nature. Berlin I. I. 1866. P.301)
Coffee is poison. The man himself for his money destroys slowly but surely his brain. And who needs the people to destroy themselves without any wars and revolutions? Only an ENEMY!
НЭДБ:Берлин И.И. Природа. 1866
ДОК: Кофе пить вредно-Берлин+М+EN
Balamut-Chuma
bchumagugl@mail.ru
[
Spoiler (click to open)
]
#кофе
#берлин
#баламутчума
#баламутчумакофе
#баламутчумаберлин
кофе,Берлин,баламутчума