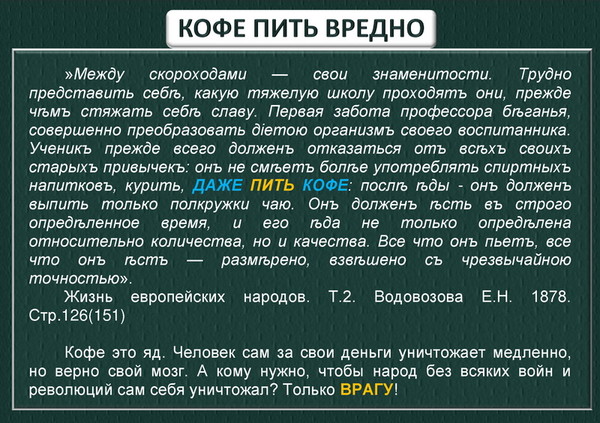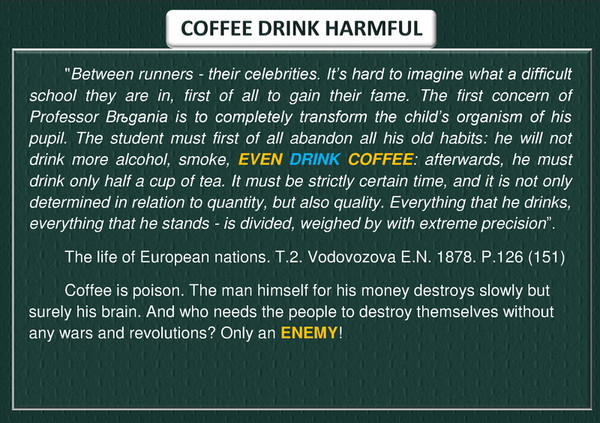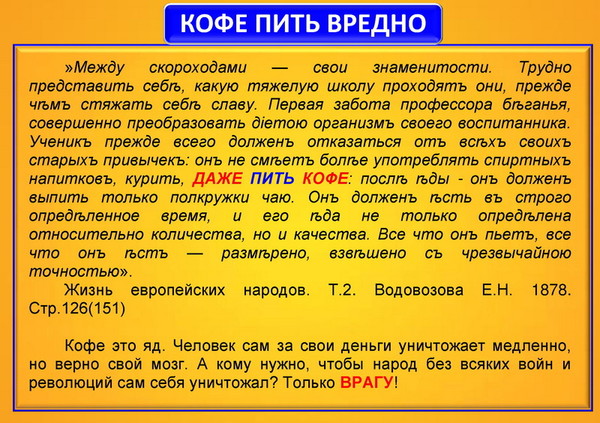 Кофе пить вредно.
(Водовозова. Мудрые мысли)
»Между скороходами — свои знаменитости. Трудно представить себѣ, какую тяжелую школу проходятъ они, прежде чѣмъ стяжать себѣ славу. Первая забота профессора бѣганья, совершенно преобразовать діетою организмъ своего воспитанника. Ученикъ прежде всего долженъ отказаться отъ всѣхъ своихъ старыхъ привычекъ: онъ не смѣетъ болѣе употреблять спиртныхъ напитковъ, курить, ДАЖЕ ПИТЬ КОФЕ: послѣ ѣды - онъ долженъ выпить только полкружки чаю. Онъ долженъ ѣсть въ строго опредѣленное время, и его ѣда не только опредѣлена относительно количества, но и качества. Все что онъ пьетъ, все что онъ ѣстъ — размѣрено, взвѣшено съ чрезвычайною точностью».
Жизнь европейских народов. Т.2. Водовозова Е.Н. 1878. Стр.126(151)
COFFEE DRINK HARMFUL
"Between runners - their celebrities. It's hard to imagine what a difficult school they are in, first of all to gain their fame. The first concern of Professor Bѣgania is to completely transform the child's organism of his pupil. The student must first of all abandon all his old habits: he will not drink more alcohol, smoke, EVEN DRINK COFFEE: afterwards, he must drink only half a cup of tea. It must be strictly certain time, and it is not only determined in relation to quantity, but also quality. Everything that he drinks, everything that he stands - is divided, weighed by with extreme precision".
The life of European nations. T.2. Vodovozova E.N. 1878. P.126 (151)
Coffee is poison. The man himself for his money destroys slowly but surely his brain. And who needs the people to destroy themselves without any wars and revolutions? Only an ENEMY!
НЭДБ:Жизнь европейских народов. Т.2. Водовозова Е.Н. 1878. Стр.126(151)
https://arch.rgdb.ru/xmlui/handle/123456789/34232#page/151/mode/2up
ДОК: Кофе пить вредно-Водовозова+М+EN
https://yadi.sk/i/CripF8iGd6xXmg
[
Spoiler (click to open)
]
#кофе
#водовозова
#баламутчума
#баламутчумакофе
#баламутчумаводовозова
кофе,Водовозова,баламутчума